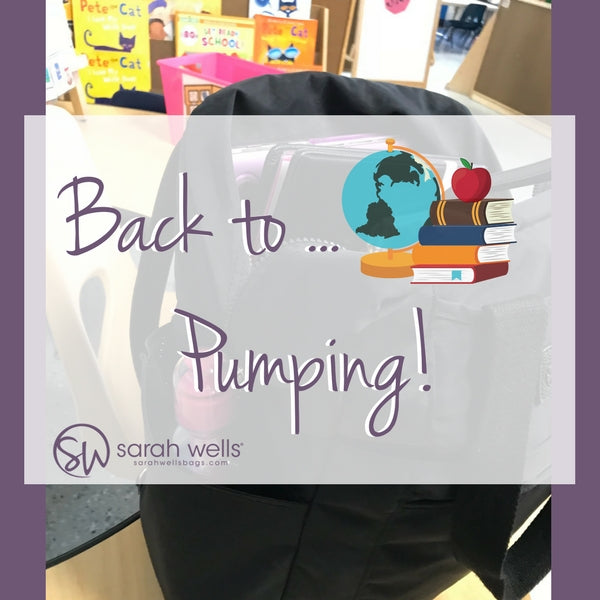 Back to School Pumping!
The story of a teacher that went back to school as a pumping mom. (And her list of must have items!) 
I adore my job as a special education teacher in a DC public school. I teach students with disabilities in a self-contained classroom setting at a Title 1 school. As if the annual Back to School rush wasn't enough to make this teacher crazy, this year I'm juggling teaching AND pumping for my son.

Establishing breastfeeding with my first child was a difficult journey for me, including a few months of exclusively pumping while meeting with a variety of support people to work out some challenges. The persistence finally paid off as my maternity leave was winding down (go figure!), and my son and I began enjoying parts of breastfeeding. Sweet bonding moments replaced excruciating pain, and convenient nursing on-the-go erased bad memories of long "triple feeding" sessions and pumping around the clock.

When it was time to head back to my classroom, pumping felt like a way I could still care for my baby while continuing work that I am passionate about. Unfortunately, I was unprepared for how complicated the whole routine was as a teacher! I joked that I had become "The Bag Lady": a bag for school stuff, a bag for baby's daycare stuff, a lunch bag, a pumping bag, a bag for the things that don't fit in the other bags…… phew!

Over time I've developed some hacks and a packing routine that make it a little easier.  My Sarah Wells Kelly bag helps me keep ALL these things together in one place. Yes, ONE bag!



Teachers carry backpacks too! In my case, my Sarah Wells "Kelly" breast pump bag, pump and supplies.

Here's what goes inside:
Spectra S1 – I purchased this out of pocket to replace my insurance issued pump because the rechargeable battery is AMAZING. I can't tell you how many random places I've needed to pump without access to an outlet. Covered while sitting in the back of a faculty meeting? Check!


Bobble Bottle – These filtered bottles are cheap enough to lose a few times and not be that sad, and they help me stay hydrated during the teaching day even when water fountain water is all that's available.


Pumpin' Pals Flanges, connectors, and valves. Buying enough to have 1 set being washed, 1 in use, and 1 spare in my desk at school has saved a ton of time.


Kiinde Breast Milk Storage Pouches – These are great for many reasons. I can pump directly into them so I'm not combining milk and dripping all over my desk, and they reduce the amount of space that bottles take up in my bag. Best of all, they're easy to tuck into the insulated side pocket of my bag with an ice pack, so pumped milk stays cold during my commute or during unexpected after school meetings.


Hands Free Breast Pump Bra - Because crossing paperwork and lesson material prep off my to-do list while pumping buys me 20 more precious minutes with my kid before bedtime.


Hand Pump – As my fellow teachers will attest, in a school setting you have to expect the unexpected. Sometimes a set pumping schedule just goes out the window because the music teacher is absent, the students' bus is late for dismissal, or you're chaperoning a field trip. If I have to skip a pumping session, I can usually sneak in a few minutes of hand pumping to relieve discomfort and keep my supply up.


Oversized, flowy cardigan –Even with a classroom that locks, folks like custodians have master keys and jobs to do. I put this on backwards to cover up while pumping which I've found much more discreet than a typical nursing cover.


Headphones & Portable Phone Charger – There's no such thing as quiet in a school building and stress affects my letdown reflex! I can plug in and turn up my music when I need to decompress (or watch videos of my baby's infectious laugh).


Pacifier Wipes – These are so much cheaper than the name brand pumping specific wipes. Sometimes I can't make it to the communal fridge or staff bathroom sink right away with my pump parts, so I wipe everything down with these which have only food grade ingredients.


The Non-Pumping Essentials: wallet, phone, laptop and planner.


Sarah Wells Kelly Bag - All this stuff weighs quite a bit, so it's a bonus that the Kelly bag converts into a backpack when I need to haul it around! I love the convenience of having everything I need to pump AND work in one place. 

Teachers leave for work early (my commute starts before 7 am). Fewer bags means fewer things to forget when I am rushing out the door after stealing a few extra minutes to nurse or play with my son!

Colleagues and friends thought maybe I'd find an "easier" profession or work setting more conducive to motherhood. Transitioning back to work is tough for any new mom, and teaching while breastfeeding adds an extra layer of logistics to manage – there's little flexibility or private time in a teacher's day.


After a difficult start to our breastfeeding relationship, I wasn't willing to give up the benefits of that hard work. I've found that nursing my baby when I get home each evening has helped me find the balance between my mission driven "helping" profession and parenthood. 

It's worth the extra effort to still have the option of nursing when my son and I are together. It allows us to reconnect after a long day apart and forces me to slow down and enjoy him. My goal is to keep things going for at least a year despite the challenges of pumping in a school building. Being organized has helped me make it to month ten and counting!

Teach on, moms!
~ Claire B.
* Amazon Affiliate Links: Sarah Wells Bags is a participant in the Amazon Services LLC Associates Program, an affiliate advertising program designed to provide a means for us to earn fees by linking to Amazon.com and affiliated sites. Amazon offers a small commission on products sold through their affiliate links. Each purchase you make via our Amazon Affiliate links supports our small business at no additional expense to you.