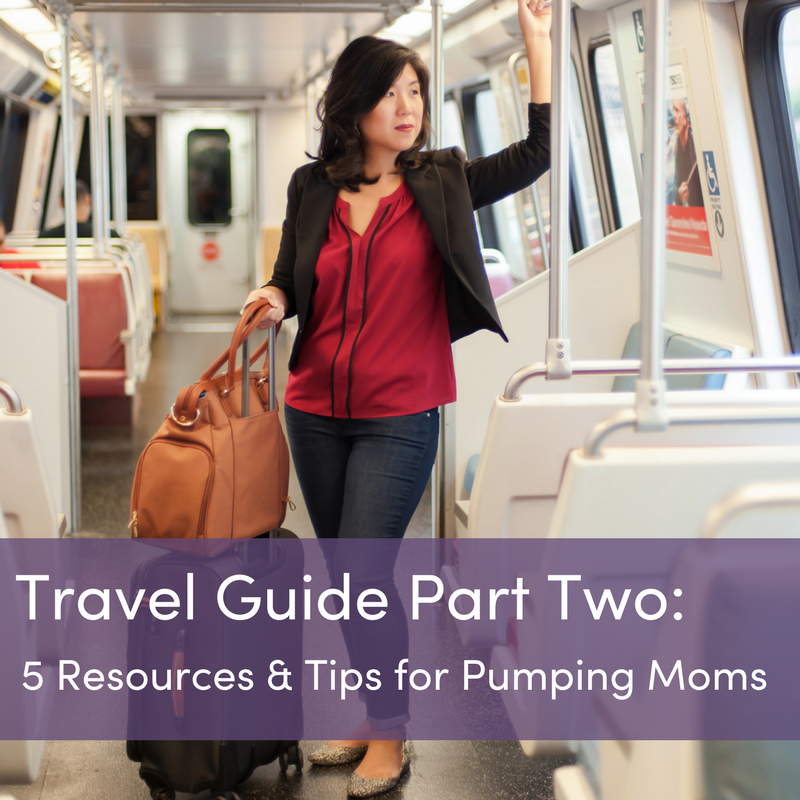 Travel Guide Part Two! 5 Resources and Tips for Pumping Moms
Travel Guide Part Two! 5 Resources and Tips for Pumping Moms 
(Bonus: Free Printable Guide with TSA Guidelines)
Last month's blog post (5 Travel Tips: The Pumping Mama's Pre-Flight Checklist) was SO well-received, I wanted to follow it up with another travel-themed post. This time around, we're bundling up some ah-mah-zing resources designed just for traveling, breastfeeding moms, along with a couple of other helpful tips. 
Whether travel has always been a big part of your job or you're scheduled to attend an upcoming conference or client meeting, there's no doubt about it: traveling as a pumping mom requires an entirely new level of planning. The good news is, thanks to technology, a handful of innovative mompreneurs, and increased awareness and support for breastfeeding moms, it's a lot easier for hard-workin' pumpin' mamas like you to do what you gotta do. 
 1. Nursing room locator tools 
There is nothing more stressful than trying to track down a clean, convenient place to pump while worrying about making your flight or connection. Luckily, there's an app, or two, for that. When traveling to an unknown land the Pump Spotting app will help you spot and rate the best mothering rooms at your airport. Moms Pump Here is also an app that helps moms find the nearest nursing room. Plus, check out this awesome site, which has an Airport Nursing Room Locator.
2. Lactation pods and suites
Mamava, Inc. makes lactation pods and suites for work and public places. They're clean, private and equipped with an outlet for your pump. They're now in place at more than 30 airports nationwide! 
 
Note: There aren't any sinks inside these pods, so be sure to bring your breast pump wipes! 
3. Need to ship breast milk?
If you're an overproducer, a military mom or donor, or you'll be gone for several days, consider using a service like Milk Stork, an amazing concept founded by fellow pumpin' mama Kate Torgersen. Milk Stork specializes in safely shipping breast milk. Worried about the cost? Our girl Kate has you covered, with this Reimbursement Request letter you can send to your employer. Pretty awesome, right?  
4. Research breastfeeding resources at your airport AND destination. 
The apps we listed above are truly amazing, but we always recommend checking out airport websites or giving them a call to confirm that the information is up to date. Even if your airport isn't listed in the apps and sites above, they may have resources for pumping moms that aren't published. 
If you'll be spending the majority of your trip at convention or conference center, use one of the apps above or call ahead to ask about accommodations for nursing moms. If you'll be working at an office, email or call ahead and request to use their dedicated nursing space. You may need to work around other pumping moms' schedules, so be prepared to be flexible. 
5. Bring backup. 
Trust. Us. Breast-pump malfunctions and emergencies ALWAYS seem to happen when you're miles from home. Pack a backup pump in your checked luggage and/or stash a compact manual pump in your breast pump bag. If you have to miss a full pump session, a manual pump can be a true lifesaver. 
Lastly, enjoy your time alone. I know it's tough being away from your family and your littlest love. I also know dealing with the whole traveling-and-pumping thing is no picnic. But I also believe in the power of positive thinking and looking on the bright side. So next time you're preparing for a work trip, think of it this way: How often do you have an excuse to just sit and do nothing? Enjoy even the briefest periods of silence and solitude that traveling affords you. Take advantage of your in-flight time to read a book or sneak in a snooze break. Download a chick flick your partner would never agree to. And remember that at any given moment, there are about a million moms who would absolutely love to have a hotel room all to themselves (room service, anyone?).   
P.S. Did you miss our first blog post? Read 5 Travel Tips: The Pumping Mama's Pre-Flight Checklist now.   
P.P.S If you want even more tips for making pumping more efficient on the go, check out our recent blog post about Going Back to Work and Pumping Like a Boss. 
Download and print your FREE Passport to Pumping Success Travel Guide now. 
In this guide, you'll find: 
TSA

Breast Milk Guidelines

 

Packing Checklist

 

 

Tips for Transporting/Shipping Breast Milk While Traveling