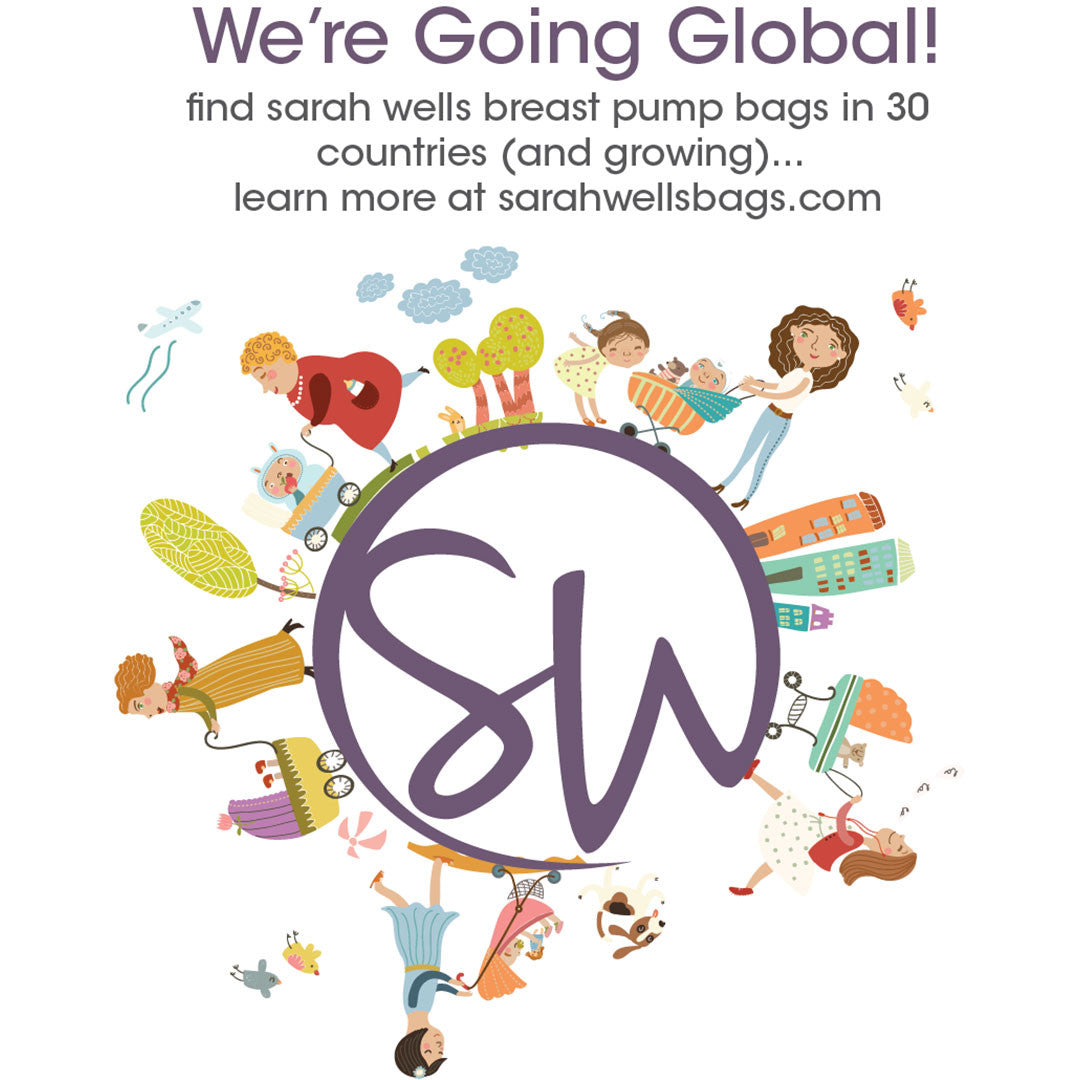 We're Going Global!
What an amazing first 9-months I've had in business; the response from customers to my stylish, functional and discreet breast pump bags has been overwhelming and so supportive.  Thank you!  I've been hearing a lot from moms in other parts of the world that they want to get their hands on a better breast pump bag; I'm pleased to announce that through a selling partnership with Amazon, I am now offering the "Maddy" breast pump bag in over 30 countries.  More coming soon!  Check back for news as we roll out availablity in additional locations.
CANADIAN CUSTOMERS Shop for Your "Maddy" Breast Pump Bag Here
UK and EUROPEAN CUSTOMERS Shop for Your "Maddy" Breast Pump Bag Here
What are customers saying about the Sarah Wells "Maddy" Breast Pump Bag?  Check out this (comprehensive!) review from one of our UK customers:
"As the approach of my return to work was looming I decided there was a few things I needed to sort out, one big concern for me was how and when I would pump in order to continue to breastfeedI soon realised that everything would not fit in my usual work bag how I imagined! I was quick to search via my good friend Google in order to track down some kind of specific breast pump bag that may be the answer to my prayers.
What hit me was the complete lack of such an item here in the UK, on my first search all it kept returning was storage bags for milk, not the kind of 'bag' I was after.

I found a Medela version – again not the kind of style of bag I was after – but we were getting on the right track. I widened my search to America as they seem to have all the latest baby products so surely they must have something like this available, so I changed my Google search from 'Breast pump Work Bag' to Breast pump Nursing Work Bag' to include US sites that most often refer to breastfeeding as nursing. I also switched to image view instead of website view to see just what kind of options were out there.

I couldn't believe it – there was such a thing. I had a look on the websites attached to some of the images and then decided to contact the the one that offered the closest match to my personal style. I soon realised through emails that Sarah – a mum herself, had created this bag out of her own personal need for such an item. The actual bag itself was even named after her Daughter - Maddy. I explained my predicament of returning to work, having no access to such a bag here in the UK, and we soon realised a potential opportunity for the UK market. Sarah offered to ship a few of her bags to Amazon EU to allow international shipping to the UK.

Shipping from the US is not an easy task, and I was so eager to get my hands on this beauty that by the time it arrived I was truly beside myself. At first I had to return to work using my usual work bag, along with a toiletry bag for my breast pump and a separate carrier bag for lunch items, this was such a chore, and did make expressing that little bit more challenging. For the first couple of months, I looked ridiculous walking into work with all these separate bags, but I just didn't want my breast pump items sitting amongst my personal items – or lunch for that matter. The moment I knew the bag was on its way I was so excited, and even more so when it arrived. It arrived nicely packed out and protected, and I made short work of transferring everything over.

The bag is organised so that you have two external side pockets and one large main compartment inside the bag, along with an internal zipped section for personal items, and a padded compartment for items such as mobile phone, tablet, kindle etc. When the side pockets are in use it has a way of using internal space – yet if unused, the pockets simply flatten and you gain internal space – Clever!
The bag is made from a wipe able man made material with leather like look and feel; the colour is black with tan trim – meaning it will literally work with any outfit. It has silver hardware, double zips, and metal feet under the bag to save scuffs when placing the bag down. It is finished with a small embossed Sarah Wells logo on the front.
All in all I love this bag, you can express with your breast pump motor still sitting in the pocket, the side pockets are insulated so you can even keep your milk in there *although I still tend to store milk in a fridge where available* and all personal items can be kept separate. What's even better is this bag would also work as a changing bag as the exterior and interior fabric wipe clean.
Now my little girl has just turned One, I have found I am no longer needing to express as often as her demand for feeds have dropped, however this bag has not left my arm despite me removing my breast pump items now.

This is certainly a bag that will take you from your breastfeeding journey to beyond, and nobody would be none the wiser as to what you are carrying. To prove a point a colleague commented on my bag and how lovely it was.

I tested the bag with various breast pumps that I own to check for size, both my Avent Single Electric Breast Pump and storage containers fitted in well, as well as my Single Electric Medela Swing Breast pump. I also have two separate hand pumps (Tommee Tippee and Avent) which also worked. The Tommee TIppee single electric is a very similar size to the Medela so I know this would also fit in. I have not tried any double pumps - but there was still space in one pocket so they should fit in easily also.

The bag does seem a little on the expensive side when you initially think of what it is - a pumping bag, but it has made my life so much easier when expressing, and it isn't 'just a pump bag' it is so much more, I also know that this bag will last me through my potential breastfeeding journey with future babies.

Well done Sarah on creating such an amazing bag."