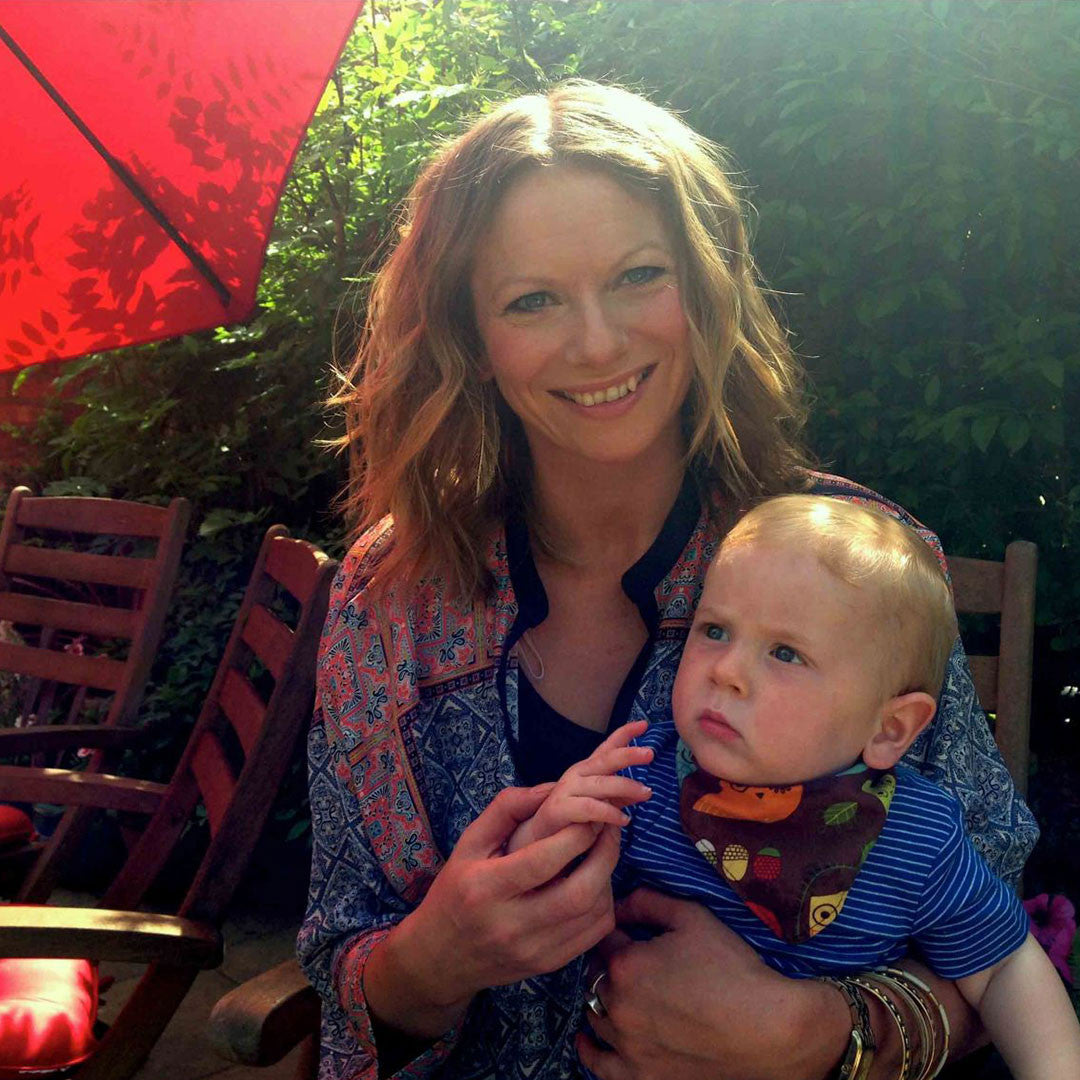 Meet Theresa! 10 Questions for a Fashionable Mom

Q. What is your name, age and profession?
A. Theresa Tibbetts, Illustrator, 42
Q. Is fashion important to you?
A. Yes fashion is important to me, I studied it for my degree! However I would say it has taken more of a back seat since I became a mum. I think I spend more money and effort dressing my son Arlo now. It's a form of artistic expression though for me and has always been a big part of my life. Apparentely I started picking out my outfits to wear from the age of 18 months! If my son follows in my footsteps I have a mere 2 months left of dressing him how I like!
Q. Describe your fashion style, likes/dislikes prior to becoming pregnant.
A. I like a relaxed/boho/slightly cool style. Not too dressy, I love jeans and a funky jacket with a really stylish bag and cool ankle boots. I spend a lot of money on bags! Accessories can make or break an outfit and turn a plain T shirt and jeans into something special and stylish. I'm not a girly girl and can be a bit tomboyish
Q. What was your maternity style like?
A. Pretty much the same as I dressed before becoming pregnant! Apart from finding really high heels impossible to wear. I wore a lot of skinny jeans with loose tops and and a nice leather jacket or blazer. In the summer maxi dresses were comfortable with a flat gladiator sandal. I didn't spend much money on maternity clothes just a few pairs of jeans. I spent quite a lot of money on a nice baby change bag though, I figured I would use it every day so was worth the investment.
Q. Since becoming a mother, how would you describe your style? Has it changed?
A. 
Obviously I have less time, hats are great when you haven't got time to do your hair! Not many high heels going on either as I walk a lot. Still love skinny jeans though and am back to my pre pregnancy weight without doing anything drastic, just walking with my son in his buggy everywhere!

Q. My favorite clothing brand or brands are:
A. I love Top Shop, French Connection, Whistles and All Saints. For a splurge I love J Crew and Marc Jacobs for bags 


Q. Name up to three celebrities/notable moms whose style you admire.
Sienna Miller, Miranda Kerr and Nicole Richie

Q. Is your child/children's fashion important to you?
Very! I spend a lot on clothes for him and love putting cool outfits together for him. Although it saddens me at the moment that he has taken a dislike to wearing hats especially as I've bought him so many great ones that are now just tossed out of the buggy!

Q. Sarah doesn't think having a baby means the end of a woman's time as a stylish, modern woman. Do you think moms can be fashionable and practical at the same time? What are your best tips?
A. Like I said before, hats! When you're rushing out the house and can't blow dry or even wash your hair, put on a hat. A sensible heel, so cool ankle boots or converse are great and skinny jeans. A funky necklace or scarf can be quickly put on and really jazz up a simple outfit. All practical things but they can be stylish and of course a really great bag! I'm not just saying that either Sarah, a great bag finishes off an outfit :)